If you don't know the difference between the verbs: SEE, LOOK AT and WATCH, here is a simple explanation about when and how to use them.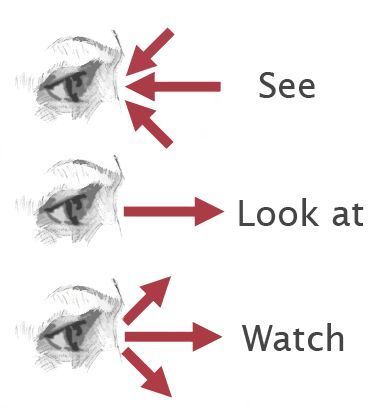 You SEE naturally, without thinking about it.
Can you see that sign?
I see a man walking down the street.
You LOOK AT something because you focus and concentrate on that.
Look at the sky. The storm is coming.
I love this picture. I can look at it all day.
You WATCH something in action or moving.
Did you watch the game last night?
The teacher is watching the children running in the park.
---
Now, look at the cartoon below and choose the right verb to complete the story. (You will find the answers at the bottom of this page.)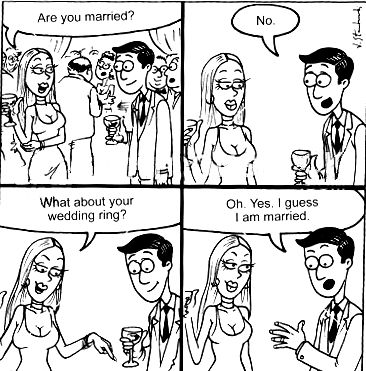 I was at a party a few days ago and I realized that some guys will do anything to get a date. The party was a bit boring, and I thought I could just go home, nobody will miss me anyway. But just as I was finishing my champagne and getting ready to leave, a young man came up to me.
"Hello!", he said. "I watched/saw (1) you on the balcony a few minutes ago, but you were in the middle of a conversation with someone and I didn't want to interrupt. I must say that you are very elegant and beautiful tonight. Would you like another drink?"
"Oh, thank you so much", I replied, "I'm fine. I don't drink much alcohol."
So we started chatting about the party, about the music we like and films that we like looking at/watching (2). I was very optimistic as he seemed like a really nice person. In one moment I asked him: "Are you married?", and he said "No." But you know how girls pay attention to every little detail, so when I looked at/watched (3) his hand I looked/saw (4) a ring on his finger.
"What about your wedding ring?", I asked suspiciously.
The poor man was so unpleasantly surprised, almost in a state of shock. He quickly looked at/watched (5) his own hand, and just answered completely confused: " Oh. Yes, I guess I am married."
I didn't say anything, I just smiled and walked away. Who needs a liar like that…
---
Answers: (1) saw, (2) watching, (3) looked at, (4) saw, (5) looked at