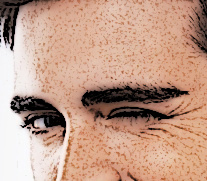 One of my favourite lessons I do with my students of English is a radio program in which listeners give advice on how to make our bad day better and how to think positively. Among these tips there is one that goes like this:
"Every week make a list of all the good things that happened to you. Keep the list in a pocket or in a bag and take it out when you're sad, in a bad mood or just when you're having a bad day. Reading it will cheer you up and make you happy."
I also have a list like this, and one event on it never fails to bring smile to my face whenever I remember it. This is what happened.
One day I was travelling across New and old Belgrade in a bus 83. It was a nice weather and I was standing just opposite the middle door, looking out onto the street through a half-opened window. We were getting close to Slavija square when the bus stopped – the traffic light had probably changed – and a long line of cars was patiently waiting for Resavska Street traffic to stop and get the green light for us in Nemanjina St. I was deeply absorbed in my thoughts, looking in the distance, towards the big square, but I suddenly felt someone looking at me. Beneath the bus, side by side, together with many other vehicles, and with the same patience, there stood a car with four passengers – 2 young guys at the front and two girls at the back. The guy sitting next to the driver was staring at me, smiling, obviously trying to catch my attention. It definitely worked for him! However, the next moment was something I couldn't possibly predict – he winked at me! "This hasn't happened to me for ages!", I thought. On the inside utterly confused and amazed, I only managed to give him a big, warm smile and show all my teeth stretching from one ear to the other; that's how pleased and astonished I was by a gesture from a complete stranger who looked like a real experienced seducer and picked me to flirt a bit in order to kill time while we were all waiting for the almost asleep traffic light. I don't quite remember the features of his face, but I do recall they were attractive; he had dark hair and playful eyes.
Even less expected was his reaction that followed – to my sincere smile, to my look straight into his eyes, the colour of Casanova, the young man quickly turned his head away, towards his friend, the driver, and – he was embarrassed. I could see he blushed, he suddenly had a face of a little boy who, for the first time in his life, noticed a pretty girl, became aware of the fact that he had a crush and that, above all, she saw him. Another insecure glimpse at me, a smile of an inexperienced felon, and… no… he couldn't bare to look at me again for a little longer.
In the car beneath me there was a disturbance, he stirred in his seat, probably even giggled out loud so the girls in the back realized there was something going on. One of them, the one sitting closer to me, glimpsed in my direction, and, it seemed to me, with her unmistakable female instinct, understood it all at once. Even the mate next to leaned to check out this creature who caused so much fuss, but, luckily, the bus moved and, of course, their car instantly too; somebody drifted away from somebody, I don't remember whether it was me from them or them from me, and so I remained smiled, lost in seventh heaven, blissful as a stranger gave me such a wink, and even more because my smile had turned him into a humble, innocent kid, who he may have lost somewhere a long, long time ago…